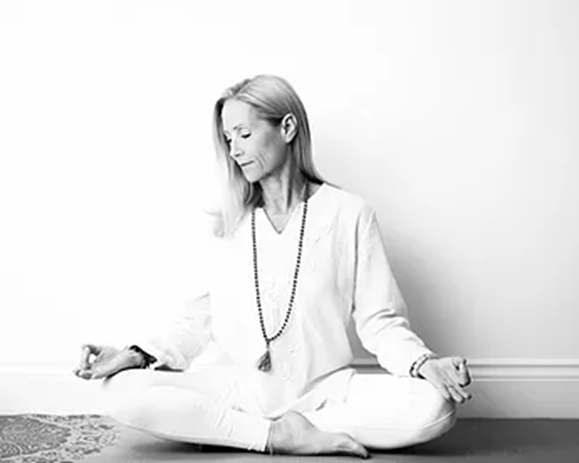 Kundalini Yoga Retreat with Julie Greenhalgh
Kundalini Yoga
We live in a period of rapid change which can feel like chaos to some. The stress that most of us are experiencing relates to how we handle these pressures. As we try to keep up with the pace of everything, our frustrations stem from the resistance to change within ourselves and within our society along with information overload which is often conflicting. We stop listening to our inner guidance.  A stressful environment, life problems, losses, or traumatic events can create blockages in the energy flow that can translate into psychological symptoms such as anxiety and worry. 
Kundalini Yoga is a technology which incorporates, pranayama (breathing techniques), asana (postures), mantra (chanting), relaxation and meditation.  This technology helps us to function in harmony with the new realities and energies to enable us to reduce our resistance. 
We practice techniques that help us to achieve inner peace whilst keeping ourselves grounded. Kundalini yoga is all about transformation and awareness and helps to awaken the energy of consciousness. The practice brings to us an awareness of our self-limited beliefs and habitual patterns that we inherited from our past. The primary goal of kundalini yoga is to allow us to reach our full potential and to expand our awareness of our unlimited self. Benefits of kundalini yoga are improved vitality and self-awareness allowing you to feel more in control of yourself, clarity, greater self esteem and a deeper inner calm as well as strengthening your nervous system and balancing your glandular system.
What the retreat includes:
Exclusive use of Florence House and its extensive beautiful 6 acres of grounds on Seaford Head.
Full-board from Friday dinner to Sunday lunch.  The food is vegetarian and delicious. It is seasonal and locally sourced and from their own organic garden, where possible.
Breakfast consists of a buffet with a selection of fresh fruit, cereals, yoghurt, egg and selection of breads.
Lunch consists of freshly made soup, a chef's choice main course, salads and vegetables.
Dinner consists of a chef's choice main course, salads, vegetables and dessert.
The venue includes unlimited fresh water, teas and coffees, fresh fruit and biscuits.
Breakfast is from 9.00-10.00am; Lunch from 1.00-2.00pm; Dinner from 7.00-8.00pm. 
Special diets can be catered for (vegan and /or wheat, gluten or dairy free) for an additional charge of £3.50 per person per meal (excluding vegetarian meals). Prior notice is required before the retreat starts.  
Kundalini Yoga is all about the experience and this retreat will include pranayama (breathing practices), asana (posture), mantra (chanting), relaxation and meditation. We will have a fun experience with Shakti dance and then relax to the sounds of gong plus experience beautiful Yoga Nidra followed by a gong bath. 
​
This schedule is a rough outline and may be subject to minor changes.  If inclement weather, there will be indoor activities/talks to participate in.
Friday 
5pm arrival
5.30pm-7pm opening circle, kundalini yoga
7pm-8pm dinner
8.30pm-9.30 yoga nidra and gong
Saturday
7.30am-9am yoga
9am-10am breakfast
10am-12am group walk 
12pm-1pm gentle kundalini yoga/talk
1pm-2pm lunch
2pm-4.30pm free time or group walk
4.30-5.30pm talk on stress/self care 
5.30pm-7pm chakra dancing and gong bath
7pm-8pm dinner
8.30pm-9.30pm meditation in yurt.
Sunday
7.30am-9am yoga
9am-10am breakfast
10am-12pm walk/activity
12.pm-1pm gentle yoga/meditation
1pm-2pm lunch
2pm-3.30pm walk/relax
3.30pm-4.30pm breathwork 
4.30pm closing circle and goodbyes
Accommodation
Shared accommodation (twin or triple rooms).  There is a  single supplement option of£50, subject to availability.  
Fee
The total fee for this weekend is £375 (early bird £340 if booked before 15th October 2021) per person based on shared accommodation (twin, double or triple rooms) with exclusive use of Florence House and its extensive grounds, full board from Friday dinner to Sunday lunch.  To secure your booking a deposit of £100 is required.  Single rooms are available at a supplement of £50.